New interior design trends seek a simple, minimalistic environment to create a calming experience for staff and visitors. In contrast, the workflow of most organizations increasingly relies on technology to improve collaboration and productivity and stay competitive in today's global economy. In order to resolve this conflict, AV innovators are creating new technology that hides in plain sight.
Hide the Wiring
Today's executive board rooms showcase beautiful conference tables and slim chairs that dare anyone to clutter the space with wires and flashing lights. Yet those same tables require advanced communication technology with wiring and equipment mounted underneath it. The TechPed can provide a metal rack space structure for both small equipment and cable management installation. The exterior of the TechPed uses panels that can be custom made to precisely match the conference room table. Technicians can easily remove the panels to service the wiring and equipment.
Concealed Conference Room Mics
Participants on conference calls often complain of poor sound when microphones are improperly placed in a conference room. Remedying this problem requires microphones to be in front of people's faces, which is not aesthetically pleasing. A recent mic array technology innovation digitally locates who is speaking and creates that same close mic sound from the ceiling.
Vanishing Video Projectors
Let's face it, video projectors are not the easiest on the eyes. Even after matching them to the color of the ceiling or putting a box around them, they remain the "elephant in the room." Now, however, whether the projector hangs down one foot or thirty feet, there's a new solution that whisks the projector away and hides it in a ceiling pocket.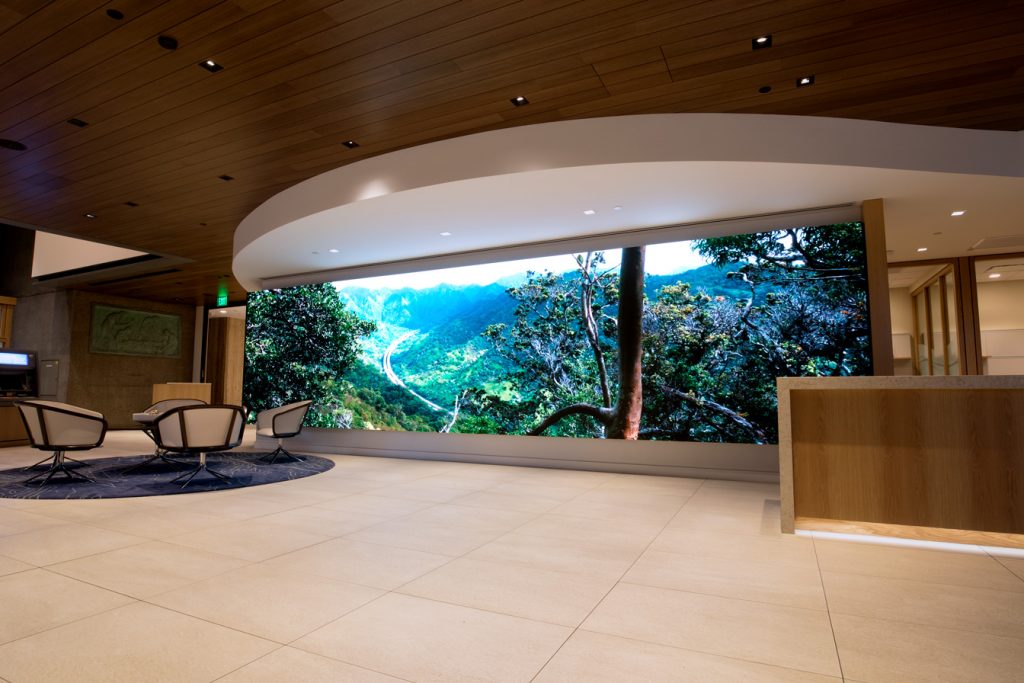 Unseen Screens
Projection screens are commonly the best and most economical solution for a space. However, when they are not in use, no one wants to look at them. Not only can the electric screen retract into its case, but the case itself can also be raised over 40 ft. into the air to disappear into the ceiling.
Disappearing Displays – Wall Art
Turn your lobby and hallways into an art exhibit while still communicating with visitors and staff. Direct-view LED displays have no bezel and can be mounted into the wall—add a picture frame, and you have changing art. From Picasso and Banksy to local art, photography and today's events in the conference center, digital signage creates a great experience that appeals to your staff and visitors.
Disguised Speakers
A new ceiling speaker innovation looks like your standard flat water sprinkler head, yet it blends perfectly into the ceiling and provides quality paging, noise masking and background music. If your ceiling has a mural or other artistic image, it can be printed onto the speaker head to blend in seamlessly with its surroundings.
Steering Speakers
Speaker array technology uses digital beam steering to place sound energy where it's needed and away from where it's not. This allows a speaker to be hidden far away from the listener and still sound like it is very close. This solution works particularly well in auditoriums, large lobby areas and transportation centers.